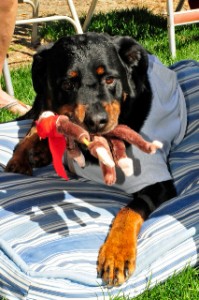 Day 3 seemed to go pretty smooth.
Hurley got down his ramp OK to go to the bathroom,  had a pretty good appetite, and pain seemed to be down a bit.
Even though the only time he went out was to go to the bathroom, he seemed to want to be up and about around the house which we tried to discourage but there is only so much you can do.
Day 4 definitely seems to hold a bit more pain in it.  He has started today with more whimpering and seems to be content with just laying down (which we are fine with).