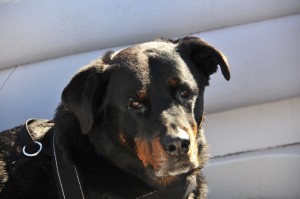 This past Monday the 18th of April, Hurley was formally diagnosed with an aggressive Osteosarcoma (I really hate that word now) in his front right leg.  We are lucky to live close enough to the Washington State University Vet School which is one of the finest in the nation and have given us fantastic care and information.
Hurley's infected leg has given him nothing but problems since birth.  It is slightly deformed and he has always favored it and it has been the source of soreness many a morning after a long walk or hike.
Once we found out that there was no other detectable areas of cancer and that he was a prime candidate for amputation, we gave the go ahead and yesterday, April 20th, Hurley had his right front leg removed.
We have found it very difficult to distinguish between rational and emotional decision making at this time, but after seeing so many stories of dogs living so happily with only three legs we felt we had no choice but to give him this shot.
We pray we made the right decision.